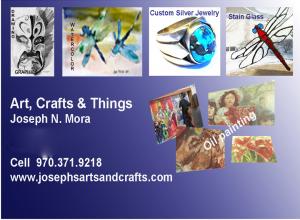 Introducting a Old Artist to New Social Networking

Joe started painting and drawing when he started his art Education at the University of Northern Colorado in Greeley Colorado. Joe taught at Valley High School, Platteville Colorado in the 70s. Then I moved to Madrid , Spain. Where taught Drafting, Architectural Drawing part-time for the University of Texas. Full time for the Department of Defense grades 1st thru 8th grade. Transferred to Okinawa, Japan. While there he taught Industrial Arts , which change to Industrial Technology or Technology Education an Art Classes.

Joe started Arts Crafts & Things Webpage to provides a way to sell his artwork at a reasonable price, along with other merchandize.Discovering that he can do this in the comfort of his home. Plus, designing a webpage on Yahoo, where he started sharing his artwork with friends and artist all over the World! Take a look at his webpage, maybe something will catch your eye and you may...